LAST WEEK CLASS OF 2022! We are proud of you and excited for your Graduation next Saturday. Everyone finish strong.....the finish line is in sight! So....Here is the May 13th Edition of What is UP at the FORT. ARMOUR UP!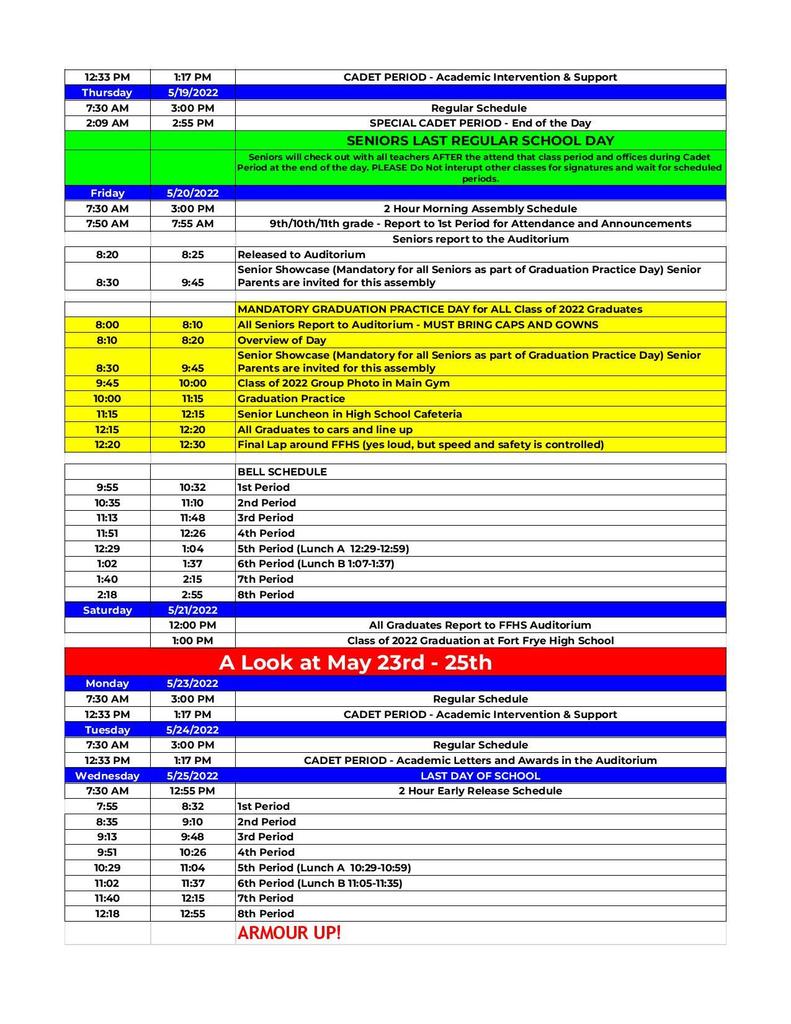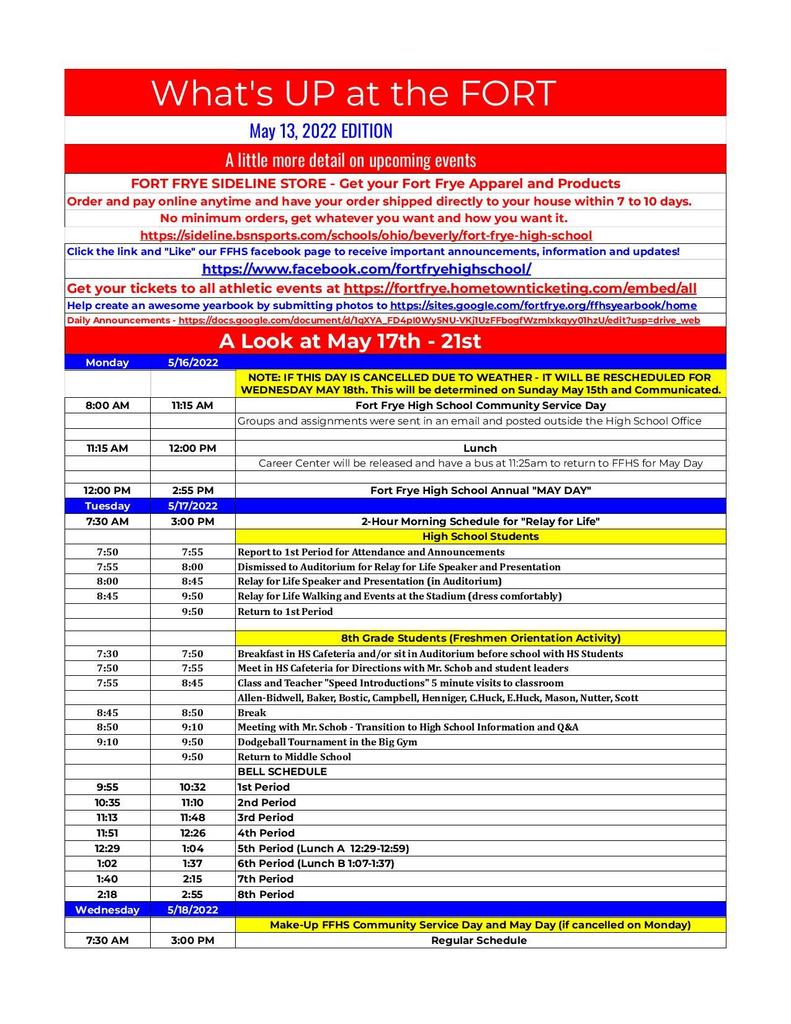 There will be a free Livestream tonight for the Varsity Softball Sectional Final game vs. Garaway. The link is provided below.
https://youtu.be/AicMKW6YLQA

Friday May 13 - SPECIAL Schedule (30 minute classes - No bells) Special Events: 1. Art Show in the Main Gym - Classes see art show as scheduled (All Day) 2. Our Olympians Fun Day Events at the Stadium (All Day) We will conduct the Evacuation Drill at 9:31am (meet with class on Band Field behind High School) Then form a Tunnel for participants and cheer them on as they enter the stadium at 9:45am 3. Upper Classmen with free periods or Classes that want to attend during the day may sit in the stands and cheer the participants on as they compete and cross the finish line Kona Ice will be at the stadium for purchase by students and staff during the events 4. Music Theater presentation of "Legally Blonde" in the Auditorium at 12:50pm. Note: Music Theater members will be out of classes all day dressing, make-up, and preparing Bell Schedule 7:55 8:25 1st Period 8:28 8:58 2nd Period 9:01 9:31 3rd Period 9:31 9:37 Evacuation Drill (Meet in Band Field) 9:45 10:00 Tunnel for "Our Olympians Participants" Fort Frye, Waterford, Warren, Ewing School 10:05 10:35 4th Period 10:38 11:08 5th Period (Lunch A) 11:11 11:41 6th Period (Lunch B) 11:44 12:14 7th Period 12:17 12:47 8th Period 12:50 PM 3:00 PM Musical Theater Presentation of "Legally Blonde" - High School Show in Auditorium


Tickets for tomorrow's (5/12/22) Softball Sectional Final game at Garaway High School, are only available on the OHSAA website. There are no cash tickets. Tickets can be purchased at the link below. Fort Frye is Division 3, East District. The price of tickets goes up at 2 pm on Thursday.
https://www.ohsaa.org/tickets


Tuesday May 10, we will have a Senior night ceremony for our Varsity Softball team before their game vs. Marietta. This is will take place at 4:40 pm. We will then be honoring our Track & Field Senior's at the stadium for their Senior night. This event will start between 5:15 and 5:30 pm. Please come out and support the Cadets!

Tickets for tonight's Varsity Baseball game vs. Marietta High School will be sold at the gate for $5 cash. Reminder that the game is being played at Marietta College Schaly Stadium.

To clear up any confusion. The JV Baseball game vs. Federal Hocking is Tuesday 5/10/22 AWAY, at 5:00 pm.

Congratulations to our Girls Track & Field team on winning the Class 3A OVAC championship!

JV Baseball vs. Morgan for today 5/7/22 has been canceled.

Varsity Softball for tonight 5/6/22 has been canceled. We will make this game up on 5/13/22.

Varsity Baseball at Barnesville tomorrow 5/7/22 has been canceled.

Varsity baseball vs. Frontier tonight 5/6/22 has been canceled.

We had 13 athletes qualify for the OVAC championship track meet on Saturday 5/7/22, at St. Clairsville HS. Tickets are available at ovac.org